A few days ago, I had the opportunity to experience Monkey town 5, a legendary New York City event of video art and gastronomy installation. Barcelona was its first european stage, and I was quite thrilled to be present in such an artistic event.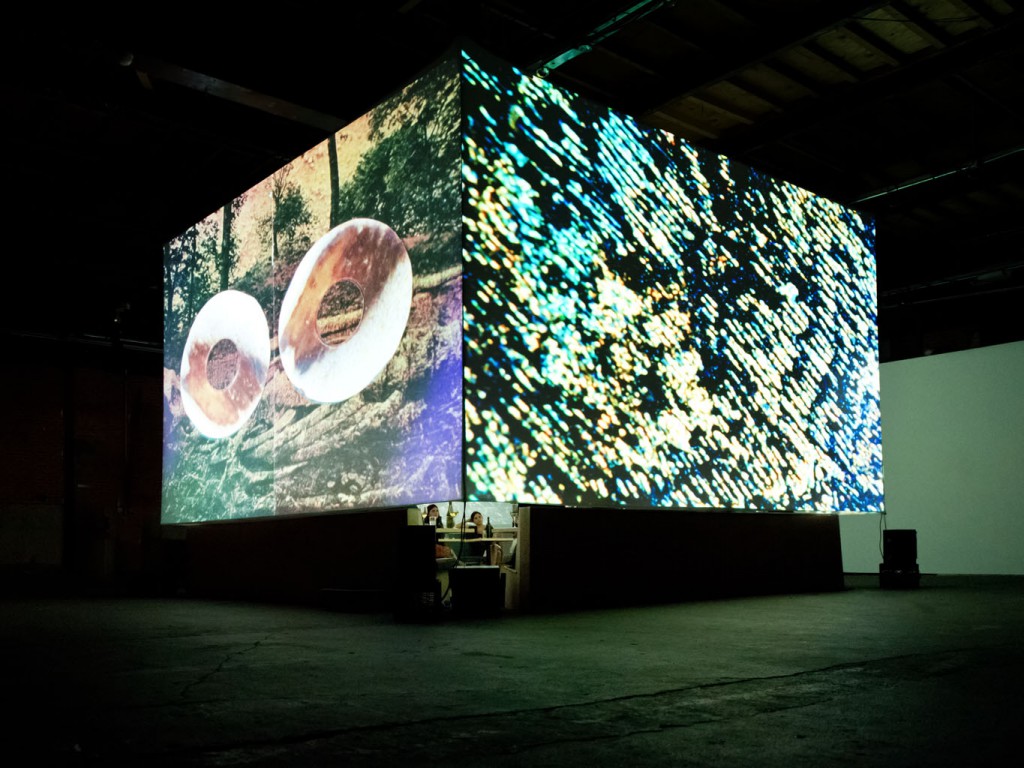 When I arrived, a warm welcoming was given by the founder Montgomery Knott, which introduce all the people on the atmosphere which they were about to enter.
A massive 7m x 7m cube was waiting for us to sit inside and watch a two hour multi-screen video program, dining on 4 course menu.
The journey started as soon has we entered the large room where the cube was. The first screened video was very linked with the event which instantly trigger my attention. The rest were nothing special, taking one or two which pleased my eye and helped on turning this experience quite rewarding.
Regarding the food, all the dishes were quite tasty and well prepared by the chef Sergi de Meià. The first dish was, a good combination of fresh vegetables, herbs, flowers, beetroot and cauliflower cream. Followed by pumpkin a la Morisca, a very tasteful dish from the 18th century. The third one, was catalan seafood rice, which in my opinion, despite of being good it was the less rich for a gastronomic experience. To end the menu, a desert of chocolate and sweet fruits was served to culminate in a very pleasant and satisfying diner.
In between food, video and loads of information, the performer RAFT (Pat Noecker) comes into scene giving a kind of fresh breeze to the happening. Exploring the potential of crowd-sourced sound collage, using loopers and electronics through his cell phone, creates in real time the soundtrack of "Le Révélateur" an experimental narrative film from 1968, directed by Philippe Garrel. Indeed, A great performance by this U.S Cellphonist artist which presented the audience with something innovative.
When I got out of the cube, I felt enchanted and my mind couldn't stop assimilating all the information received during all the experience, perhaps the same felling when you just finish seeing a film from David Lynch.
Monkey town 5, is definitely a journey of the senses and I totally recommend it to everyone.